Close All Pages - Close All Pages Command

Expression Web has a Save All selection under the File Menu, however what happens when you have twenty pages open and want to close them all at once?
Expression Web places the 'Close All Pages' command under the 'Window' Menu, however I find this a little clunky and would much prefer it under the File menu. Is this possible?
The solution is to add a menu item to the File Menu, and save design time, how do we do this?

Go to the
Tool
Menu and select
Customize
this will bring up the
Customize
Dialog box.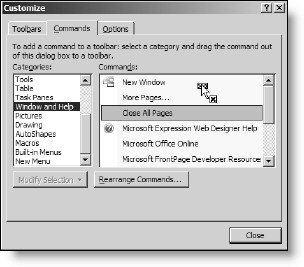 Click the Commands Tab and select Window and Help in the Categories Pane. Scroll down and select Close All Pages from the Commands Pane and holding down your Left mouse button drag the menu command and hover over the File Menu. This will make the menu open up, you can then place the menu command anywhere you wish in the menu.
I suggest placing the
Close All Pages
command under Close Site.
Save All - Save All Command
Close All Pages will ask you before closing pages that have been edited. However they must have been saved previously. So
BEFORE
using the Close All Pages menu command, use the Save All menu command, this will ask you about pages that are not yet saved.
By using a combination of the
Save All
and
Close All Pages
commands you will save yourself Design time.

Cheshire Web Designs - Cheshire website Designs by Any Expression Web Designs
Owner Any Expression Web Designs and Clarke Abstract Art
Copyright © 2006 - 2011 Tina Clarke of Any Expression Web Designs All Rights Reserved
Are you looking for a Web Designer?
Web Designs created by Any Expression Web Designs