Launching a WordPress Blog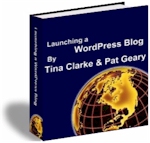 by Tina Clarke, Microsoft MVP - Expression Web and Pat Geary, Microsoft MVP - Expression Web
Copyright © 2007 - 2009. All Rights Reserved
PDF DOWNLOAD: For those readers that use Macs you can download this Launching a WordPress Blog PDF (it is in a zip file)
Be advised that the pdf will not look like the ebook, and is made available only so mac users can have access to the ebook, the content will not render as it is meant to in a pdf as it does in the ebook.
With Thanks - Thanks go to Scott Glasgow who kindly converted the ebook into PDF format for us.
Launching a WordPress Blog Ebook
This is for people who are using their own domains or sub-domains, and as well as covering the setting up of a WP blog and database, it outlines the basic SEO elements needed to start off a blog the right way. All that is left then is to write your titles, slugs and content with an eye on keywords, which does not take that much effort... and thereby all the hard work is done at the beginning and you just have to continue to write interesting blogging pieces for your intended audience.

Prepare your blog before you start with some simple SEO steps.
Friendly File Names - Permalinks
1. Go to Settings | Permalinks and under Common Options, select "Custom Structure" then paste in the following: /%postname%/ This sets up your file names as friendly SEO file names, such as /hello-world.php instead of /?p-123
Configure your categories
2. Configure your categories, and make sure they use good keyword file names such as expression-web-tutorials instead of all your posts ending up in the default Uncategorized category. Use parent categories much the same way as you would use folders within a site. Always use dashes and lower case for file names with any kind of site or blog on the net, do NOT use spaces or underscores, search engines don't see either and your file name will be truncated. e.g. expressionwebtuturials which has neither keywords nor a phrase.
Set WordPress Preferences
3. Set your WordPress Preferences, in the Settings | Discussion you can set who is allowed to post comments to your blog. With the advent of plugins such as Akismet it has now become safer to not require your visitors to register to join your blog in order to make a comment. So that users are more likely to leave you feedback. If you are using Akismet you DO NOT need to tick the 'Users must be registered and logged in to comment' radio box.

Akismet is a plugin which identifies and blocks comment and trackback spam by checking the content of the comment anonymously with an online server, to determine whether it is spam or not. It is included by default with WordPress 2.0 and later. If you don't have it for some reason, you can download it from the official page. http://akismet.com/download/

You will need a API key to use Akismet, upon obtaining an account with WordPress, your API will be sent to you via email. If you already have an WordPress account you can find your API in your WordPress Profile.

Go to http://wordpress.com/ and sign in, then click on the Profile tab you can see your API key on the right
Friendly SEO Post Titles in WordPress
4. WordPress from version 2.5 now makes SEO (Search Engine Optimisation) Friendly Titles by having your posts Page Title appear with "Article Title" then your "Site Name" e.g. ( My WordPress Blog >> Hello World. ) However there is more you can do.. read the ebook to find out more.
WordPress DoFollow Plugin
5. By default to stop spammers using comments and benefiting by the search engines following their external links WordPress installed the NoFollow Attribute which stops search engines following external links. This is not a good idea SEO wise, and there should be a turn off switch within WordPress so the plugin is not needed. There isn't but fortunately there is a DoFollow Plugin that allows us to disable this feature. Once again

Each of the above basic SEO implementations compliment the other, used in part they won't have as great an effect as if used as a whole, and some should not be implemented unless others are.