How to make a Custom Toolbar


The Icons available by default are not always the one's you want to hand. The best solution therefore is to make a Custom Toolbar and drag the Icons you use most often, saving you time and effort.
For our example we are going to make a custom Toolbar for the Recalculate Hyperlinks Icon and customise the icon by choosing a graphic and renaming the icon.
Go to the Tool Menu and select Customize this will bring up the Customize Dialog box.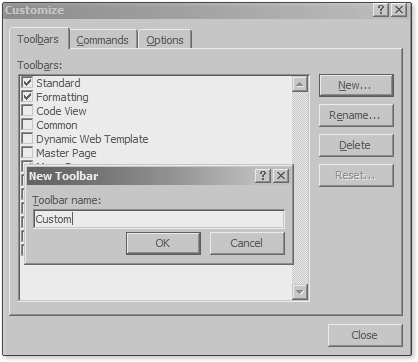 Go to the Toolbars Tab and click New, the New Toolbar dialog box will appear, type in the name you want to call your new toolbar. I've used the name Custom and press ok.

Next you will see a new box appear in the toolbar list and it will be ticked. A small toolbar will also appear like the one on the right.

Click the Commands Tab and select Site in the Categories Pane.
Scroll down and select Recalculate Hyperlinks from the Commands Pane and holding down your Left mouse button , drag the menu command and hover over the new Custom Menu in order to place the icon.
The Icon for Recalculating Hyperlinks just consists of text and is rather long, it would be better to change it and give it an icon.
Change Command Icons Text and Image
Make sure you have the customize dialog box open - this is very important.
Right click the Recalculate Hyperlinks Icon command and a new dialog box will appear.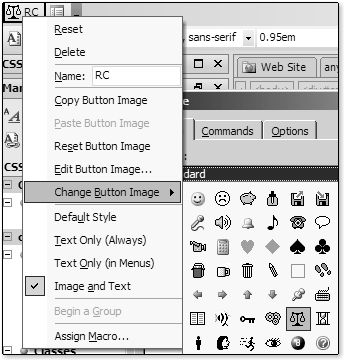 Where it says Name: change the text to (for example) RC. Next click on the Change Button Image and select an icon. I think the scales is the ideal icon for this command. Next make sure Image and Text is ticked. Click away and then press close on the Customize Dialog box. You can do this for any of your menu commands.

Cheshire Web Designs - Cheshire website Designs by Any Expression Web Designs
Owner Any Expression Web Designs and Clarke Abstract Art
Copyright © 2006 - 2011 Tina Clarke of Any Expression Web Designs All Rights Reserved
Are you looking for a Web Designer?
Web Designs created by Any Expression Web Designs