Any Expression Web Tips Ebook Vol l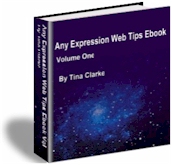 26 Expression Web Tips
available to you now for the low launch price of
$7
. Why wait for each tip to be brought to you weekly by the
Any Expression Web Tips Ezine
?
If you miss any of the tips in the ezine, there are no archives and we don't resend them, however you can obtain them now without waiting and worrying if your going to miss a Original Expression Web Tip by buying the Any Expression Web Tips Ebook Vol l Filled with 26 EW Tips all original by the authors listed below.
*
Buy both
Expression Web Tips Ebooks Vol l and Vol ll
for
$13

Author & Publisher of Any Expression Web Tips book Vol l
Tina Clarke. Microsoft MVP - FrontPage

Tina's first foray onto the World Wide Web was in the 90's and she soon grew interested in learning all about FrontPage and made copious notes which turned into her major FrontPage site AccessFP which is full of her FrontPage Tutorials for every version. Soon more sites about FrontPage followed, then along came the successor to FrontPage, Expression Web and her Any Expression Web Designs site was born. Tina decided to launch an update ezine to support the site and tell interested readers the latest news and provide Expression Web Tips and Tutorials, now she is relaunching the ezine as Any Expression Web Tips Ezine which will bring readers Expression Web Tips and EW News and the latest updates about this site.
Her site not only covers tutorials and tips about EW but is her premier Design site for FrontPage and Expression Web Clients. Along side she also produces the Expression Web Blog and FrontPage and Expression Web Blog and owns and maintains the Microsoft Expression Web List and FrontPage and Expression Web List
She owns the FrontPage list on yahoo. AddonFP - FrontPage Addons and maintains her FrontPage blogs FrontPage News Blog and FrontPage Advice She also publishes AnyFrontPage Bytes a FrontPage Ezine. Tina also produces original abstract pen and ink drawings
Tips by this Author:
1. Stripping old code - Using EW tools
2. Apply your settings
3. Basic Meta Tags you should use
4. PDF and Expression Web
5. Is there a way to empty Expression Web Cache files?
6. Thumbs.db and Expression Web
8. Drag, Hold & Insert a CSS link rel into Expression Web
9. Expression Web has design guide
10. Layout Tools Task Pane - Remove Coding
11. Blank out the ALT Tag
12. Scroll To The First Or Last Page Quickly
13. Title Attributes (tags) in Expression Web
15. Backup your Expression Web
16. Publishing your site from the server to your hard drive
17. Folders have their uses
18. Making and inserting a robots.txt file into Expression Web
19. How to work with XHTML
20. Preview in Multiple Browsers
21. Web site View Options - Folders
22. Five Best working practices in Expression Web
23. Navigation in Expression Web - Control your menus
24. Working in Split View
25. Control Plus Click in Expression Web
26. Copyright, Expression Web And The New Year
Guest Authors for Expression Web Ebook Vol l
J. Walker (a.k.a. "Cricket")

Cricket lives in rural Mississippi where she operates her own company, GNC Web Creations. She teaches one of the internet's most popular series of online classes in Search Engine Optimization, Internet Marketing, and Website Development Training. In addition to her classes, they focus on small business owners, helping them build a successful online presence.
Cricket's love for digital photography, lead to the conception of Mississippi Photo Gallery.
Tips by this Author:
Volume one -
7. Comment Tags - The Good And The Bad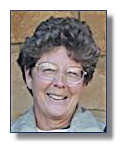 Pat has been involved with website design since the late 1990's when she created her first genealogy website. She is a homemaker and a volunteer webmaster for her UU Fellowship of Harrisonburg VA and Massanutton Chapter Daughters of the American Revolution. She also maintains two RootsWeb Mailing Lists for FrontPage and Expression Web and is active on both the RootsWeb and FreePages Help list for genealogy websites as well as various yahoo lists for FrontPage and Expression Web. She was recently featured on the RootsWeb Volunteer Spotlight for her volunteer contributions to the RootsWeb Community. Her sites include Expression Web Tutorials and Expression Web Tips
She and her husband live in the Shenandoah Valley of Virginia with their dog Katie. Pat is still an avid genealogist and maintains Family Genealogy Online. Website design remains her love and she is webmaster of Genealogy Web Creations which specializes in website design for the genealogist with tips and tutorials. Counted CrossStitch is her other passion.
Tips by this Author:
14. What happens at publish time with Includes & DWTs when you FTP or publish with http (FPSE) from within Expression Web?