Any Expression Web Tips Ebook Vol ll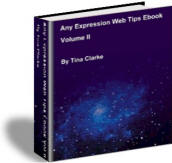 26 Expression Web Tips in Vol ll is now available to you now for the low launch price of
$7
. Why wait for each tip to be brought to you weekly by the
Any Expression Web Tips Ezine
?
If you miss any of the tips in the ezine, there are no archives and we don't resend them, however you can obtain them now without waiting and worrying if your going to miss a Original Expression Web Tip by buying the Any Expression Web Tips Ebook Vol ll Filled with 26 EW Tips all original by the authors listed below. Comes complete with a bonus Expression Web Query with Tip 49.
*
Buy both
Expression Web Tips Ebooks Vol l and Vol ll
for
$13
Author & Publisher of Any Expression Web Tips book Vol ll

Tina Clarke. Microsoft MVP - FrontPage
Tips by this Author:
See Volume l -
Volume ll
29. How to use Shopping Cart Codes with a DWT, without errors
30. Launch Expression Web Without opening a default web
31. How do you Check unlinked Graphics in Expression Web?
32. What Version FrontPage Server Extensions Are Running On Your Server?
34. Show Formatting Marks in Expression Web
35. Expression Web Addins unload and reload
36. Do you know how to apply these heading tags. H1, H2 etc?
37. Did you use these five best practices when you first made a site with Expression Web?
38. Save time with new pages
39. Insert HTML while working in Design view
40. Tables in Code View
41. SEO in Expression Web - Meta Tags
42. Making changes globally with absolute urls used internally within your site.
43. Quickly change Table Cells to Header cells with Expression Web
44. Quick Selection methods to insert graphics into Expression Web
45. Good Expression Web crafters are lazy
46. How do I keep my title, meta tags and scripts intact when using a DWT?
47. Would you like to know how to do batch Don't publish?
48. What to do if Edit with Expression Web in IE is greyed out
49. Quickly remove border code on graphics with a Expression Web Query
50. Check all your Titles at once
51. Providing a sitemap for your Expression Web Site
52. Dragging an embedded style sheet into an external CSS file
Guest Authors for Expression Web Ebook Vol ll

Tips by this Author:
see volume l
Volume ll -
28. What to do in Expression Web when extra files are generated as a result of saving pages from the Internet with a browser
Kevin Spencer is a programmer who has worked with the Microsoft platform for over 10 years, working with technologies beginning with ASP and ASP.Net, and since the inception of the Microsoft .Net platform, virtually all sorts of .Net applications. He has been a Microsoft MVP since 1997, originally
supporting FrontPage, and now Visual Developer - Expression. He has written for many publications, including The Microsoft MSDN Library, various other online publications, and co-authored several books with Wrox publications.

Tips by this Author:
Volume ll -
27. Use a web.sitemap File for Navigation
Ian Haynes has been a professional web developer since 1999, when he started working with FP98 and IE3. His company, Data Insite, has customers across Europe and provides ASP and ASP.Net web applications which to date have included content management systems, document filing systems, email listservers, discussion groups and e-commerce, as well as conventional sites. He's always been happy to share his enthusiasm for FrontPage with others. Ian has made many addons for Expression Web 4 which can be found at EW Resources
Tips by this Author:
Volume ll -
33. Refresh in half the time