Migrating from FrontPage to Expression Web Ebook
Have you ever wondered how to fix all those web bot errors? Do you want your site to do better in the search engines? Would you like to start using Expression Web or begin to use it so it helps not hinders your learning curve? Then this Migrating from FrontPage to Expression Web eBook is for you.
Mailing List
If you wish to be informed of when updates and sales are available, please join our mailing list: FrontPage to Expression Ebook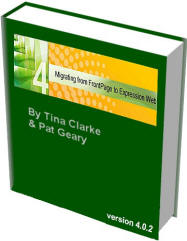 $32 Standard price
FrontPage to Expression is the companion site that gives more details about the eBook and contains a glossary. Plus a collection of free Dynamic Web Templates and Expression Web Queries.

Authors: Tina Clarke and Pat Geary
Perquisites to using the Ebook:
A working Expression Web 1.0, 2.0, 3.0 or 4.0 or the Free SharePoint Designer 2007 which is like Expression Web 1.0 Or the Free 60 day trial of Expression Web 4.0
Firefox with html tidy extension
Backed up your Website twice (Instructions in the EBook)
Download and install Steve Easton's FPCleaner. If you already have an earlier version of the program installed, you will need to uninstall it before installing the latest version. If the program does not appear in the Program List of on your Add/Remove program list. you should delete it from your desktop.
Prior Experience:
Read and implemented either EW 1.0 or EW 2.0 or EW 3.0 or 4.0 SP2 Setting up Expression Web Ebooks
Chosen your free template from the generous collection choices provided
Installed the Free Expression Web Queries available to EBook Owners
This Ebook covers:
Preparation
Cleanup Preparations
Making CU Toolbar
Making Queries
Removal Preparations
Redundant Graphics
Save Navigation
Remove Themes...
DL Web Package
Preserve Regions
Insert DocType
Remove bots
Pages Preparation
Import Web Package
Use Cleanup Toolbar

Compatibility
Clean Tables
Table2clipboard
Accessible Tables
Apply XHTML

Replace Bots
Compatibility Reports
Accessibility Reports
CSS Reports
Add Semantic Markup
Add Metas Tags
Preview in browser
Validation
Run Queries
Revising Pages
Navigation

Accessible Nav
Make Include Pages
Insert Include Pages

Forms
Robots File
Attach DWT
Use Site Summary
SuperPreview
SP Online Service
Snapshot