Allegheny Candles
Allegheny Candles Before Redesign

Amy Lees the owner of Allegheny Candles contacted me to give her a simple easy maintenance site that she could update with content and spend less time maintaining the overall structure. Amy wanted a light and easy to navigate look that felt refreshing but reflected the meta physical nature of her store.
Allegheny Candles After Redesign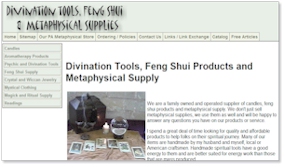 Since Amy was using the generic nature theme graphics from FrontPage I figured she liked the lightness of the colours and picked out a palette of colours from the theme graphics. I choose a suitable font for the site logo which suggested the flavour of the site subject. The site was generated in Expression Web using XHTML DocType with Design Time Includes for the menus. The menus consist of CSS based unordered lists and a form was designed for the site using the hosts form mail. A CSS sheet was made and a DWT so that Amy could have the maintenance free site she had been dreaming of.
Launched Feb 2007 and is owner maintained