Expression Web Ebooks
All the tips in the ebook will be published in our free weekly Any Expression Web Tips Ezine, but if you miss an issue you miss out, so why not be sure to obtain your Expression Web Tips in a handy to read Ebook for the low launch price of $7?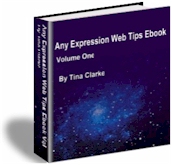 The Expression Web Tips Vol l Ebook is written and published by Tina Clarke Microsoft MVP- FrontPage alongside selected guest authors.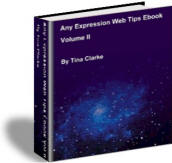 The
Expression Web Tips Vol ll Ebook
is written and published by Tina Clarke Microsoft MVP - FrontPage alongside selected
guest authors
This Ebook comes with the bonus
Expression Web Query
"Find and Replace any border size" with Tip 49.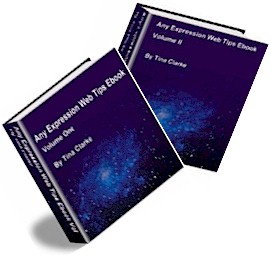 Obtain both Expression Web Tips Ebooks for $1 off, for the low price of $13. We keep our prices low so everyone can afford our ebooks. Each ebook contains 26 Expression Web Tips that give little known insights into the programme, buy today and find out those tips and tricks you must not miss.
Migrating from FrontPage to Expression Web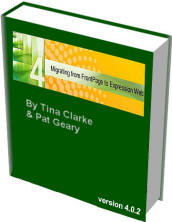 $32
Not only filled with sage advice, tips and tricks to help you clean your sites faster. Ebook owners are also entitled to the following:
Free DWT Templates
Free Expression Web Queries
One time only free Template (DWT) Review Evaluation
Free Expression Web Ebooks
Before you start editing with Expression Web it is essential you set up your favourite Web Editor correctly. To help webmasters we have produced this FREE Expression Web Setting up Ebook to help guide you and start your web design process off the Right Way.
Unless your well versed with Expression web it is best to prepare the ground before setting foot in the world of creating your site with Expression Web 2.0, there are new features and settings you should be aware, so you can focus on the essential art of designing your site.
Find out what's new find out what's missing. Find out how to set up Expression Web 3.0 to best effect, before you start. Take a shortcut to designing your website the Right Way Revised July 2010
New Bugs to watch out for, some selections added and removed, find out what you need to do to start your design experience with as little fuss as possible.Revised Sept 2011 for Service Pack 1 and 2
There is a six part Setting up Expression Web tutorial series on the site but it is not focused on each individual version as the ebooks are and the ebooks are handy to refer to from a shortcut on your desktop.
This essential FREE Expression Web DWT Ebook shows you all the tips and tricks you need to know to ensure a trouble free implementation of your Expression Web Dynamic Web Templates. For instance did you know you need to put editables around your metas to ensure they are not overwritten? See this free ebook by Tina Clarke - Microsoft MVP - Expression Web to help guide you through step by step the Right Way.
New Version now available v2.0
There is also a Dynamic Web Template Tutorial which is a succinct version and not as detailed as the ebook.
We have revamped our ezine to better streamline our efforts in bringing you Expression Web information and help. To that end this ezine will now bring you a Free weekly Expression Web Tip, updates of the any-expression.com site and www.expression-web.net blog alongside any breaking Expression Web news.
Don't miss your copy as there are no archives, nor do we send out previous copies, other than the latest issue when you join. Not all content in the ezine will appear in the site, and NO TIPS will appear on the any-expression.com site, so if you miss your weekly free copy, buying the ebooks are the only other place you will find these particular tips.

If you fill out our Free Website Report and have a Website Review Evaluation of one page of your site and then contract with us, we will knock $20 off the total price.